RUCKUS ICX 7250-24G Switch

24-Port Enterprise-Class Stackable Access Switch with Future-Proof Expandability

Sorry, this product is no longer available, please contact us for a replacement.
More pricing below, click here!
Overview:
The RUCKUS ICX 7250 switch combines enterprise-class features, manageability and the flexibility and "pay as you grow" scalability of a stackable solution. The switch delivers the performance required for enterprise Gigabit Ethernet (GbE) access deployment. It raises the bar with up to 8x10 GbE ports for uplinks or stacking and market-leading stacking density with up to 12 switches (576x1 GbE) per stack. RUCKUS ICX 7250 switches also offer an external power supply for failover resiliency, as well as increased PoE/PoE+ port availability.
The RUCKUS ICX 7250 is easy to deploy, manage, and integrate into both new and existing networks. Organizations can buy only what they need today, and easily scale out as demand grows and new technologies emerge. Optimizing performance based on specific requirements is easy with flexible licensing upgrade which allows users to upgrade from 1 GbE to 10 GbE ports for uplink and stacking.
Deployed as a standalone switch, a stack, or a network fabric, organizations reap the benefits of a flexible platform and the assurance that their investments are protected.
Premium Performance
Designed for small to medium-size enterprises, branch offices, and distributed campuses, these scalable edge switches deliver enterprise-class functionality at an affordable price—without compromising performance and reliability. The RUCKUS ICX 7250 delivers wire-speed, non-blocking performance across all ports to support latency-sensitive applications, such as real-time voice/video streaming and Virtual Desktop Infrastructure (VDI). The switch is available in 24- and 48-port 10/100/1000 Mbps models with 1 GbE uplink or 10 GbE dual-purpose uplink/ stacking ports (see Figure 1)—with or without PoE and PoE+—to support wireless mobility, and IP communications without the need for additional power outlets or power injectors.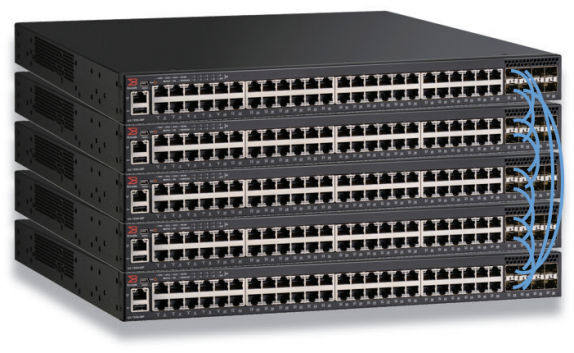 Figure 1: Up to 12 RUCKUS ICX 7250 Switches can be stacked together using up to four full-duplex SFP+ 10 Gbps ports for a fully redundant backplane with 480 Gbps of aggregated stacking bandwidth.
Full Power Support for Connected Edge Devices
The RUCKUS ICX 7250 can deliver both power and data across network connections, supporting Power over Ethernet (PoE/PoE+) standards and providing a single-cable solution for edge devices, such as wireless access points, VoIP phones, video surveillance equipment, and VDI thin terminals. Carrying data and power through a single Ethernet wire reduces the number of power receptacles and power adapters while increasing reliability and wiring flexibility. The RUCKUS ICX 7250-24P provides 370 watts and can deliver PoE power to all 24 ports, while the RUCKUS ICX 7250-48P provides 740 watts and can deliver PoE+ power for up to 24 ports. Both switches can provide PoE and PoE+ (30 watts) power to all ports when an external power supply is used.
The optional RUCKUS ICX-EPS 4000 is an external power supply source that delivers additional power for up to 16 RUCKUS ICX 7250 switches (see Figures 2 and 3). It can be used for system power redundancy and an increased PoE/PoE+ power budget to enable additional ports.

Figure 2: RUCKUS ICX-EPS 4000 for the RUCKUS ICX 7250, shown with four AC power supplies.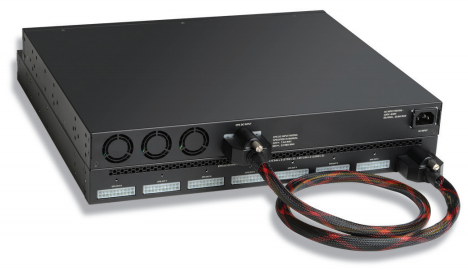 Figure 3: Rear view of the RUCKUS ICX-EPS 4000 connectivity.

Energy Efficient Design
The RUCKUS ICX 7250 Switch supports the IEEE 802.3az standard for Energy Efficient Ethernet (EEE), reducing power consumption during periods of low utilization. Ports are placed into a low power mode when no data is being transmitted.
Data Center Top-of-Rack Server Connectivity
The RUCKUS ICX 7250 is designed to fit in server racks by consuming only one rack unit. In data center environments where most servers are 1 GbE-capable, the RUCKUS ICX 7250 provides a cost-effective 1 GbE Top-of-Rack (ToR) switch by simply connecting 1 GbE Network Interface Cards (NICs) in the servers to switch's 1 GbE ports. This configuration uses 10 GbE links to connect to data center aggregation switches.
Pricing Notes:
Pricing and product availability subject to change without notice.
CommScope RUCKUS Products
RUCKUS Switch Accessories
Two-post fixed rack mount kit
#ICX7000-RMK
Our Price: $85.00
1U, 1.5U, and 2U Universal Kit for Four-Post Racks
#XBR-R000295
Our Price: $495.00