SmartZone Software Platform

System Management And Control
The RUCKUS SmartZone software platform provides unified software architecture across wireless LAN (WLAN) controllers, for appliance, virtualized and cloud environments offering the ultimate in deployment flexibility. This new Wi-Fi software offers a tremendous level of flexibility: scaling up to 300,000 devices, offering single and multi-tenancy, as well as 'WiFi-as-you-grow' — the capability for your network to expand with and adapt to the changing needs of your business.
The RUCKUS Virtual SmartZone
Service Provider Class WLAN Controller Designed to Run in the Cloud
The vSZ is a key building block in enabling service providers of all types to provide a complete managed service to their customers. This can include management of the access points on the customer's premises as well as all back-end systems in their data center. One of the most important backend systems is the WLAN controller. The vSZ is a virtualize version of the industry leading SCG-200 that makes use of Network Functions Virtualization to enable MSPs to offer a totally cloud-based service. vSZ can run on either an open-source KVM or VMware hypervisor.
Along with vSZ, RUCKUS offers Virtual SmartZone Data Plane (vSZ-D), a complementary NFV conformant solution to securely aggregate user data traffic, expanding the deployment options within large networks to address growing user data volumes while simplifying network configuration. For major applications (like VoIP or guest access) that require a tunneling approach to data management, vSZ-D is a very cost effective and flexible product to meet these requirements.

ZoneFlex SmartZone

RUCKUS SmartZone 144 with 4x10GigE and 4 GigE ports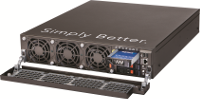 RUCKUS SmartZone 300 with 6x 1GbE and 4x 10GbE ports
Virtual SmartZone

RUCKUS Virtual SmartZone 3.0 or Newer Software Virtual Appliance, 1 Instance, Includes 1 AP license

RUCKUS Virtual SmartZone 3.0 or Newer Software Virtual Appliance, 1 Instance, Includes 1 AP license

RUCKUS Virtual Data Plane 3.2 or Newer Software Virtual Appliance, 1 Instance (throughput up to 1 Gbps)