RUCKUS ZonePlanner

Smart Wi-Fi Simulation Tool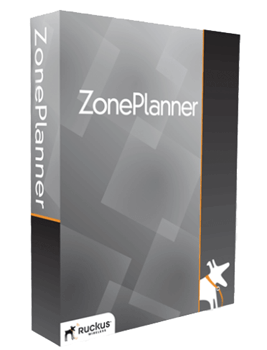 This product is no longer available, contact us for a replacement!
Overview:
Easy-to-use RF planning tool simulates network coverage and performance for Smart Wi-Fi APs
ZonePlanner takes the guess work out of wireless LAN design, making it easy for network professionals to accurately plan and deploy any 802.11a/b/g/n-based Wi-Fi network with industry leading RUCKUS Smart Wi-Fi access points.
Powered by AirMagnet technology, ZonePlanner is RUCKUS specific Wi-Fi planning and modeling software that integrates unique antenna patterns generated from our patented intelligent array integrated into every Smart Wi-Fi access point. ZonePlanner is available for a variety of Microsoft platforms and can be run on Apple platforms using Boot Camp.
ZonePlanner accounts for building materials, obstructions, access point configurations, antenna patterns, and a host of other variables to provide a reliable predictive map of Wi-Fi signal and performance.
Accurate network planning is one of the most critical steps in a successful WiFi deployment, as poor planning can result in spotty coverage, unhappy users, and over-spending on infrastructure. ZonePlanner is ideal for designing and estimating the scope of WiFi networks before the first wireless access point is installed.
With ZonePlanner, network managers can more easily and accurately plan, design, deploy and manage RUCKUS Smart WLAN networks in any indoor environment. ZonePlanner integrates directional, high-gain antenna patterns derived from BeamFlex, the Ruckus-patented and award-winning smart antenna array, and combines them with AirMagnet's industry-leading planning tool.
Unlike other WiFi access points on the market that use omni-directional dipole antennas to blindly radiate Wi-Fi energy in all directions, each RUCKUS ZoneFlex access point integrates a high-gain directional smart antenna array that constantly focuses and directs WiFi energy over the best performing signal paths to increase throughput and channel capacity while also significantly improving reliability and range.
By combining these state-of-the-art RF controls with powerful new planning tools, designing a world-class wireless LAN has never been easier.
Great networks start with great design
Before any actual AP deployment, ZonePlanner lets installers determine the correct quantity, placement and configuration required to deliver full coverage for end-users while minimizing signal bleed into unsecured areas. Users can preview the network by channel or SSID ensuring the network conforms to any specification.
Wi-Fi tailored to your environment
Simply load in a map of the location and use the built-in library of walls, doors and windows to precisely match the building's characteristics. The environment can be further customized to account for cubicles, offices, elevators and a variety of warehouse obstructions. All environmental settings are fully customizable and custom materials can be created from scratch to meet your specifications.
Build your network
ZonePlanner provides full control over all RUCKUS AP settings with independent settings for 802.11a/b/g/n radios. Users can set the AP channel, transmit power, antenna type, orientation, height and 802.11n specifications. When the planning session is complete, users can generate a professional report with all the information needed to properly install the network, complete with a list of required RUCKUS APs, their ideal placement and configuration settings. Administrators can also use ZonePlanner to predict network data rate information.
802.11n modeling
With ZonePlanner, network managers can design new 802.11n "greenfield networks," as well as one-to-one replacements or the phased introduction of 802.11n devices into their existing legacy network. Users plan their 802.11n deployments for maximized performance without any physical AP roll-out because the ZonePlanner is powered with unique coverage maps for 802.11n WLAN throughput and other coverage maps, such as operating mode, MCS transmit rate and channel width, to predict the WLAN performance at every location on the floor.
Automated WLAN modeling
ZonePlanner also includes the "advisor feature" to automatically place RUCKUS APs on site floor plans. Users can specify the minimum signal coverage expected, the transmit power, media type of the RUCKUS AP, etc., and mark Wi-Fi coverage areas and areas where RUCKUS APs cannot be placed.

Features and Benefits:
ZonePlanner Features
Complete 802.11a/b/g/n/ac support with RUCKUS APs
3D signal strength view
Simple creation of coverage maps
Ultra simple user interface
Custom RUCKUS beamforming antenna array patterns
Manual or automatic AP placement with "advisor tool"
WLAN throughput estimation
Distance measurements
Different coverage views
Channel interference view
Bill-of-Materials reporting
Multi-platform (Windows/MAC) support
ZonePlanner Benefits
Make migration decisions to 802.11ac much easier and faster for existing legacy network environments
Easily model WLAN changes, upgrades and roaming boundaries
Properly size new wireless deployments for any environment or location
Design networks before any physical AP roll-out begins
Predict and optimize WLAN network performance
Simplify estimating for wireless network deployments
Build detailed indoor RF models based on building materials and environment
Automate WLAN installation plans including all RUCKUS AP deployment and configuration options
Model any antenna and preview the impact to your WLAN
Ensure complete RF signal coverage while minimizing signal leak into unsecured areas
Antenna Manager: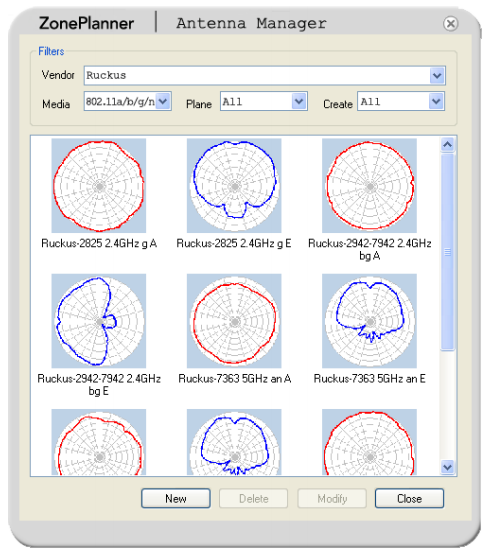 Antenna Manager allows selection of optimal antenna patterns
Specifications:
Minimum System Requirements
Operating Systems

Microsoft Windows 7
Microsoft Windows Vista Business/Ultimate (SP1)
Microsoft XP Professional (SP3)/Tablet PC Edition 2005 (SP3)
Apple OS X Leopard (Apple MacBook Pro running Windows XP PRO/SP3 using Boot Camp).

Processor
Intel Pentium M 1.6 GHz (Intel Core 2 Duo 2.00 GHz or higher recommended)
Memory
1 GB memory (2 GB recommended) for Windows XP. 2 GB or higher required for Windows Vista
Hard Drive Space
800 MB of free disk space
Site Map Image
A site map in a format supported by RUCKUS Planner (supported formats are: .bmp, .dib, .dwg, .dxf, .emf, .gif, .vsd, .jpg, or .wmf)
Pricing Notes:
Pricing and product availability subject to change without notice.