RUCKUS FlexMaster

Global Wi-Fi Managed Service Platform for Enterprises and Service Providers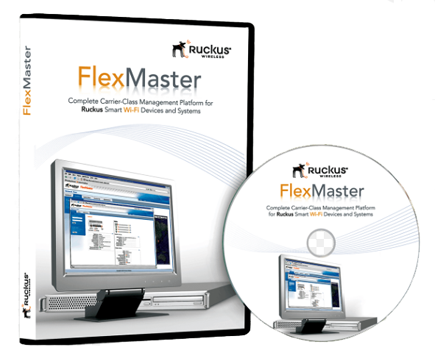 Sorry, this product is no longer available, please contact us for a replacement.
More pricing below, click here!
Overview:
Complete Management Platform Enabling Enterprise and Carrier-Grade Wi-Fi Service Infrastructure
The RUCKUS FlexMaster Management System (9.0) is a comprehensive Wi-Fi management platform for building and managing enterprise and carrier-grade Wi-Fi service infrastructures.
FlexMaster is a fully-featured, intuitive Wi-Fi management platform for all sizes of enterprises. FlexMaster enables network administrator to perform all critical functions necessary to set up, maintain, and optimize the deployment of their business Wi-Fi networks all from a single point.
Ideal for carriers, multi-service operators, and broadband providers looking to monetize Wi-Fi services, FlexMaster offers tiered administration, making it the perfect platform for offering managed WLAN service or cloud-based WLAN management services. This allows end customers to remotely view, securely control, easily manage and automatically configure only their network infrastructure and assets.
Designed for simplicity, FlexMaster provides a unique collection of automated and customized facilities not found in other management platforms such as an automated and customized super dashboard, trending reports and customized graphs, detailed client data for planning and troubleshooting and comprehensive events management.
Fitting seamlessly into existing operational support systems (OSS), FlexMaster uses industry-standard protocols to manage Wi-Fi service infrastructures. It provides a comprehensive set of capabilities for configuration, fault detection, performance management, and reporting of RUCKUS Networks ZoneDirectors, ZoneFlex Access Points (APs), and MediaFlex APs. FlexMaster can manage the RUCKUS Smart Wi-Fi APs either in standalone mode or via the ZoneDirectors.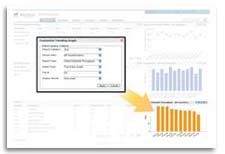 FlexMaster allows administrators to view remote environments, bulk configure and manage groups of devices, securely monitor and manage Wi-Fi services.
Easy to install and use, FlexMaster reduces the total cost of ownership by automatically discovering the deployed devices in your network, eliminating the need for tedious remote configuration, troubleshooting, and maintenance.
Complete, End-to-End, Wi-Fi Service Administration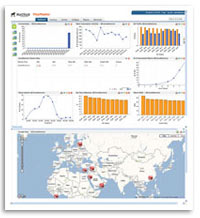 FlexMaster is the first complete management service platform that lets providers securely control, monitor, and upgrade Smart Wi-Fi systems anywhere in the world, whether over the Internet or a private IP network. Simple to install, and easy to use with an intuitive look and feel, FlexMaster provides a comprehensive solution for configuration , fault detection, audit, and performance management. It fits seamlessly into existing network management architectures by leveraging a variety of industry-standard protocols such as SNMP, TR-069, TCP, and HTTP/S. FlexMaster also provides the scalability expected for large scale infrastructures.
Enabling Managed Services
With FlexMaster service providers create unique configuration parameters on a bulk basis, and can load different versions of firmware for each customer. Managed MediaFlex and ZoneFlex devices can be grouped by geographic region, device type, serial number, MAC address range, or client's name.
Multi-tiered access provides a partitioned view for each customer and lets them view statistics, status, and reports related to their Wi-Fi networks. Using the administrator access privilege, the provider can access all of the devices in the management domain. IT managers and providers can create unique Service Level Agreements for each client or department in order to offer revenue generating services.
FlexMaster communicates with RUCKUS Smart Wi-Fi systems using industry-standard SNMP, SOAP/HTTP protocols, and takes advantage of TR-069 to establish safe and reliable links between the managed devices and the FlexMaster server. This enables remote access to devices on the LAN that normally might be inaccessible due to network address translation issues. RUCKUS Smart Wi-Fi APs can also be directly queried by other third-party SNMP or auto configuration server (ACS) systems using TR-069.
Additionally, MediaFlex and ZoneFlex APs automatically reports to the FlexMaster server during initial installation, and at pre-specified periods. The FlexMaster can manually initiate instant communication, or schedule tasks to be performed at an opportune time.
At-a-Glance Dashboard
The FlexMaster Dashboard View provides at-a-glance summary of all of the connected RUCKUS Smart Wi-Fi devices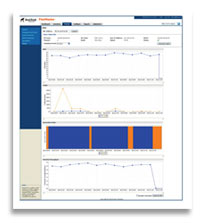 that the FlexMaster is managing. The Dashboard View, which is fully customizable, allows for views based on selected criteria such as devices, clients, Google map overview and many more.
An intuitive Events View gives network administrators a quick reference about the condition of the network. And a detailed event timeline provides trend and historical records of all important events that have occurred over the previous period. The network administrator can easily configuration widgets that present what the user wants to see.
Detailed Inventory View
The FlexMaster Inventory view provides a detailed report of all of the RUCKUS Smart Wi-Fi devices in the network. Network administrators can easily navigate to any device and drill down for more detailed information.
Integrating with the Google Map application, each of the devices can be geographically displayed on the map to provide a more physical presence to the network administrator. The devices can be tagged into different groups (for example, access points for hot spot chain, access points for hotel chain, access points for Northern City, etc.) to improve the manageability.
Flexible Managed Services Configuration Templates
The FlexMaster Template view gives service providers a simple way to set up the configuration profiles for different parameter settings of devices. For example, if an administrator wants to configuration ZoneFlex APs for a hot spot chain differently than for a hotel chain, then two templates with different parameters can be set up, saved or modified before applying the configuration to the devices.
Bulk Firmware Upgrades
RUCKUS Smart Wi-Fi system firmware can be upgraded individually or in bulk. FlexMaster allows the operator to select a set of devices, schedule the firmware upgrade, and receive notification cation when the upgrade is complete. With a simple click of the mouse, the operator has the flexibility to perform bulk firmware upgrades on all of the remaining units in the firmware, or schedule upgrades for a specific time.
Powerful Provisioning
The Provisioning View is a powerful tool that gives administrators the option to permanently save the configuration of each device. In the event a user resets a pre-configured Wi-Fi device from the provider, the configuration can be restored to a known state quickly and easily without user intervention.
Pricing Notes:
Pricing and product availability subject to change without notice.
CommScope RUCKUS Products
RUCKUS FlexMaster Licenses
RUCKUS FlexMaster license upgrade from supporting 25 to supporting up to 100 AP's
#909-0100-FMEU
Our Price: $1,800.00
RUCKUS FlexMaster license upgrade from supporting 100 to supporting up to 250 AP's
#909-0250-FMEU
Our Price: $2,500.00
RUCKUS FlexMaster license upgrade from supporting 250 to supporting up to 500 AP's
#909-0500-FMEU
Our Price: $4,000.00
RUCKUS FlexMaster license upgrade from supporting 500 to supporting up up to 1000 AP's
#909-1000-FMEU
Our Price: $7,000.00
RUCKUS FlexMaster license upgrade from supporting 1000 to supporting up to 2500 AP's
RUCKUS FlexMaster license upgrade from supporting 2500 to supporting up to 5000 AP's
RUCKUS FlexMaster license upgrade from supporting 5000 to supporting up to 10000 AP's
FlexMaster Premium Support - 1 Year
RUCKUS Premium Support for FlexMaster up to 25 AP's - 1 Year
#806-0025-1000
Our Price: $200.00
RUCKUS Premium Support for FlexMaster up to 100 AP's - 1 Year
#806-0100-1000
Our Price: $500.00
RUCKUS Premium Support for FlexMaster up to 250 AP's - 1 Year
#806-0250-1000
Our Price: $700.00
RUCKUS Premium Support for FlexMaster up to 500 AP's - 1 Year
#806-0500-1000
Our Price: $1,400.00
RUCKUS Premium Support for FlexMaster up to 1000 AP's - 1 Year
#806-1000-1000
Our Price: $2,600.00
RUCKUS Premium Support for FlexMaster up to 2500 AP's - 1 Year
#806-2500-1000
Our Price: $6,000.00
RUCKUS Premium Support for FlexMaster up to 5000 AP's - 1 Year
#806-5000-1000
Our Price: $10,000.00
FlexMaster Premium Support - 3 Year
RUCKUS Premium Support for FlexMaster up to 25 AP's - 3 Year
#806-0025-3000
Our Price: $450.00
RUCKUS Premium Support for FlexMaster up to 100 AP's - 3 Year
#806-0100-3000
Our Price: $1,125.00
RUCKUS Premium Support for FlexMaster up to 250 AP's - 3 Year
#806-0250-3000
Our Price: $1,575.00
RUCKUS Premium Support for FlexMaster up to 500 AP's - 3 Year
#806-0500-3000
Our Price: $3,150.00
RUCKUS Premium Support for FlexMaster up to 1000 AP's - 3 Year
#806-1000-3000
Our Price: $5,850.00
RUCKUS Premium Support for FlexMaster up to 2500 AP's - 3 Year
#806-2500-3000
Our Price: $13,500.00
RUCKUS Premium Support for FlexMaster up to 5000 AP's - 3 Year
1 Year
RUCKUS Support Renewal for FlexMaster 0025, 1 Year
#826-0025-1000
Our Price: $210.00
RUCKUS Support Renewal for FlexMaster 0100, 1 Year
#826-0100-1000
Our Price: $525.00
RUCKUS Support Renewal for FlexMaster 0250, 1 Year
#826-0250-1000
Our Price: $735.00
RUCKUS Support Renewal for FlexMaster 0500, 1 Year
#826-0500-1000
Our Price: $1,470.00
RUCKUS Support Renewal for FlexMaster 1000, 1 Year
#826-1000-1000
Our Price: $2,730.00
RUCKUS Support Renewal for FlexMaster 2500, 1 Year
#826-2500-1000
Our Price: $6,300.00
RUCKUS Support Renewal for FlexMaster 5000, 1 Year
#826-5000-1000
Our Price: $10,500.00
RUCKUS Support Renewal for FlexMaster 10000, 1 Year
3 Year
RUCKUS Support Renewal for FlexMaster 0025, 3 Year
#826-0025-3000
Our Price: $472.50
RUCKUS Support Renewal for FlexMaster 0100, 3 Year
#826-0100-3000
Our Price: $1,181.25
RUCKUS Support Renewal for FlexMaster 0250, 3 Year
#826-0250-3000
Our Price: $1,653.75
RUCKUS Support Renewal for FlexMaster 0500, 3 Year
#826-0500-3000
Our Price: $3,307.50
RUCKUS Support Renewal for FlexMaster 1000, 3 Year
#826-1000-3000
Our Price: $6,142.50
RUCKUS Support Renewal for FlexMaster 2500, 3 Year
#826-2500-3000
Our Price: $14,175.00
RUCKUS Support Renewal for FlexMaster 5000, 3 Year
RUCKUS Support Renewal for FlexMaster 10000, 3 Year
1 Year
RUCKUS Support Renewal for FlexMaster License Upgrade to 100, 1 Year
#826-0100-1L00
Our Price: $378.00
RUCKUS Support Renewal for FlexMaster License Upgrade to 250, 1 Year
#826-0250-1L00
Our Price: $525.00
RUCKUS Support Renewal for FlexMaster License Upgrade to 500, 1 Year
#826-0500-1L00
Our Price: $840.00
RUCKUS Support Renewal for FlexMaster License Upgrade to 1000, 1 Year
#826-1000-1L00
Our Price: $1,470.00
RUCKUS Support Renewal for FlexMaster License Upgrade to 2500, 1 Year
#826-2500-1L00
Our Price: $4,200.00
RUCKUS Support Renewal for FlexMaster License Upgrade to 5000, 1 Year
#826-5000-1L00
Our Price: $5,040.00
RUCKUS Support for FlexMaster License Upgrade to 10000, 1 Year
#806-010K-1L00
Our Price: $8,400.00
3 Year
RUCKUS Support Renewal for FlexMaster License Upgrade to 100, 3 Year
#826-0100-3L00
Our Price: $850.50
RUCKUS Support Renewal for FlexMaster License Upgrade to 250, 3 Year
#826-0250-3L00
Our Price: $1,181.25
RUCKUS Support Renewal for FlexMaster License Upgrade to 500, 3 Year
#826-0500-3L00
Our Price: $1,890.00
RUCKUS Support Renewal for FlexMaster License Upgrade to 1000, 3 Year
#826-1000-3L00
Our Price: $3,307.50
RUCKUS Support Renewal for FlexMaster License Upgrade to 2500, 3 Year
#826-2500-3L00
Our Price: $9,450.00
RUCKUS Support Renewal for FlexMaster License Upgrade to 5000, 3 Year
#826-5000-3L00
Our Price: $11,340.00
RUCKUS Support for FlexMaster License Upgrade to 10000, 3 Year
Support for FlexMaster 10000
RUCKUS Support for FlexMaster 10000, 1 Year
RUCKUS Support for FlexMaster 10000, 3 Year
FlexMaster Upgrade Premium Support - 1 Year
RUCKUS Premium Support for FlexMaster License Upgrade to 100 - 1 Year
#806-0100-1L00
Our Price: $378.00
RUCKUS Premium Support for FlexMaster License Upgrade to 250 - 1 Year
#806-0250-1L00
Our Price: $525.00
RUCKUS Premium Support for FlexMaster License Upgrade to 500 - 1 Year
#806-0500-1L00
Our Price: $840.00
RUCKUS Premium Support for FlexMaster License Upgrade to 1000 - 1 Year
#806-1000-1L00
Our Price: $1,470.00
RUCKUS Premium Support for FlexMaster License Upgrade to 2500 - 1 Year
#806-2500-1L00
Our Price: $4,200.00
RUCKUS Premium Support for FlexMaster License Upgrade to 5000 - 1 Year
#806-5000-1L00
Our Price: $5,040.00
FlexMaster Upgrade Premium Support - 3 Year
RUCKUS Premium Support for FlexMaster License Upgrade to 100 - 3 Year
#806-0100-3L00
Our Price: $850.50
RUCKUS Premium Support for FlexMaster License Upgrade to 250 - 3 Year
#806-0250-3L00
Our Price: $1,181.25
RUCKUS Premium Support for FlexMaster License Upgrade to 500 - 3 Year
#806-0500-3L00
Our Price: $1,890.00
RUCKUS Premium Support for FlexMaster License Upgrade to 1000 - 3 Year
#806-1000-3L00
Our Price: $3,307.50
RUCKUS Premium Support for FlexMaster License Upgrade to 2500 - 3 Year
#806-2500-3L00
Our Price: $9,450.00
RUCKUS Premium Support for FlexMaster License Upgrade to 5000 - 3 Year
#806-5000-3L00
Our Price: $11,340.00