RUCKUS ZoneFlex R600 Unleashed

Dual-Band 802.11ac 3x3:3 Smart Wi-Fi Access Points
Sorry, this product is no longer available, Please contact us for a replacement.
More pricing below, click here!
Overview:
802.11ac High Performance Mid-Range 3X3:3 Smart Wi-Fi Access Points with Adaptive Antenna Technology
RUCKUS R600 Unleashed enables controller-less Wi-Fi architecture for small business environments with superior performance, lower costs and simplified management. Separate controllers and access point licenses are no longer needed, significantly reducing upfront costs. Set-up is also easy, thanks to a simplified web interface that helps businesses configure Wi-Fi in just 60 seconds.
The ZoneFlex R600 Unleashed combines patented adaptive antenna technology and automatic interference mitigation to deliver consistent, predictable performance at extended ranges with up to an additional 6dB of BeamFlex gain on top of the physical antenna gain and up to 15dB of interference mitigation.
The R600 is ideal for wireless networks servicing mobile devices with dual-polarized antennas that adapt in real time to maximize performance for the mobile enterprise.
Performance is further enhanced as the ZoneFlex R600 Unleashed integrates Ruckus' patented BeamFlex, a software-controlled, high gain adaptive antenna technology. The ZoneFlex R600 Unleashed automatically selects channels for highest throughput potential using RUCKUS ChannelFly dynamic channel management, adapting to environmental changes.
A sleek and low-profile design, the ZoneFlex R600 Unleashed was purpose-built for small-medium enterprises requiring reliable high speed client connectivity. It is ideal for a variety of medium density enterprise and hotspot environments including SMB's such as small venues, local retailers and non franchise restaurants, etc.
Patented BeamFlex+ Technology Extends Signal Range, Improves Stability of Client Connections
All ZoneFlex R600 Smart Wi-Fi access points integrate a software-controlled smart antenna with PD-MRC (polarization diversity) that delivers up to an additional 6 dB of BeamFlex gain and 15 dB of interference mitigation. This is especially beneficial to enhance the performance of mobile devices which are constantly in motion and changing orientation.
Advanced WLAN Applications
Each ZoneFlex R600 Unleashed supports a wide range of value-added applications such as guest networking, Dynamic PSK, hotspot authentication, wireless intrusion detection and many more. In a controller-less configuration, the ZoneFlex R600 Unleashed works with a wide range of authentication servers including Microsoft's Active Directory, and AAA/RADIUS.
Flexible Migration Options
RUCKUS Unleashed is custom-designed to help small business owners grow their business, deliver an excellent customer experience and manage costs while supporting Wi-Fi and a variety of mobile devices with minimal IT staff. Unleashed access points have built-in controller capabilities, including user access controls, guest networking functions, advanced Wi-Fi security and traffic management. As businesses grow to multiple sites or a larger scale deployment, RUCKUS offers an easy migration path to controllerbased Wi-Fi, using the same Wi-Fi access points.
Complete Local and Remote Management
ZoneFlex R600 Unleashed can be securely managed from anywhere at anytime using any browser on any device.
Features:
High Performance and Cost Effective
Three-stream MIMO 3x3:3
Concurrent dual-band (5GHz/2.4GHz) support
1300 Mbps (5 GHz) and 450 Mbps (2.4 GHz) of user throughput
Up to 6dB of signal-to-interference and noise (SINR) improvement and up to 15dB of interference mitigation
Capable of supporting over 500 clients
Novel channel selection approach delivering up to 50 percent capacity gain over alternative background scanning approaches
Adaptive antennas and Automatic interference mitigation
Up to 2 times extended range and coverage
Automatic interference mitigation, optimized for high-density environments
Dual polarized adaptive antennas with 512 antenna patterns per band for ultra-reliability
Concurrent support for HD IPTV, VoIP and data
Support for isochronous, multicast IP video streaming
Four queues per client station
Differentiated services with multiple SSIDs
Support for multiple BSSIDs with unique QoS and security policies
WPA-PSK (AES), 802.1X support
Zero-IT and Dynamic PSK
Captive portal and guest accounts
RADIUS and Active Directory support
Other Features
Dual-band concurrent (5GHz/2.4GHz)
Adaptive antenna technology and advanced RF management
Up to an additional 6dB BeamFlex gain / 15dB interference mitigation / 3 dBi physical antenna gain
Automatic interference mitigation, optimized for high-density environments
Integrated smart antenna technology
Standard 802.3af Power over Ethernet (PoE)
Gateway mode with NAT and DHCP services
IP multicast video streaming support
Advanced QoS packet classification and automatic priority for latency-sensitive traffic
Dynamic, pre-user rate-limiting for hotspot WLANs
WPA-PSK (AES), 802.1X support for RADIUS and Active Directory
BYOD, Zero-IT and Dynamic PSK
Admission control/load balancing
Band steering and airtime fairness support
Rich and customizable guest access services
Application recognition and control
SmartWay Bonjour gateway
SecureHotspot
Band balancing
Benefits:
Unleash The Performance:
In the Unleashed version, the ZoneFlex R600 is capable of supporting controller-less deployments for up to 25 access points and 512 concurrent devices
Extended range requires fewer APs
Adaptive antenna technology delivers up to 2x increase in Wi-Fi signal coverage minimizing the number of APs required to service any area
Sleek, low profile enclosure for ease-of-deployment
Aesthetically-pleasing design and a range of mounting options
Channel selection optimizes throughput
ChannelFly dynamic channel management, based on throughput measurements, not just interference, chooses the best channel to give users the highest possible throughput
Super simple configuration and management
The industry's simplest configuration and management through a Web-based wizard and automated deployment capabilities
Flexible deployment options
Standalone or controller-based deployment
Adaptive Polarization Diversity (PD-MRC)
Dual-polarized antennas that are dynamically selected provide better reception for hard to hear clients and more consistent performance as clients constantly change orientation
Hassle free migration to higher speed Wi-Fi
Support for standard 802.3af power over Ethernet allows enterprises to use existing PoE switches without costly upgrades
Deployment:
The ZoneFlex R600 Unleashed integrates with your existing network infrastructure, delivering best-in-class 802.11ac performance and reliability at a competitive price—making it the ideal wireless solution for small business environments.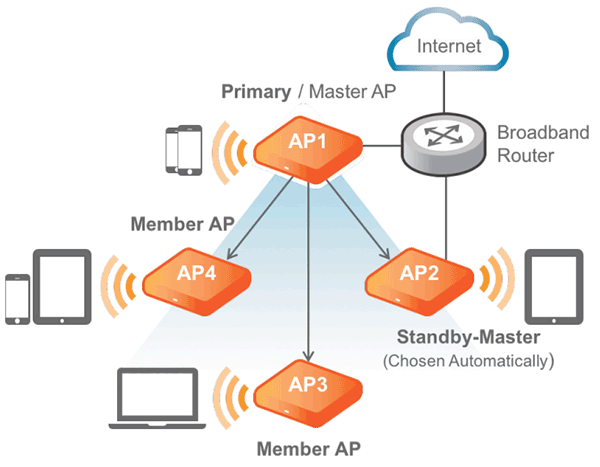 Deployments For Retail
The ZoneFlex R600 Unleashed is ideal for deployment in retail stores to provide inconspicuous wireless connection to high quality video, wireless IP phones and data access for handheld PoS bar code scanners.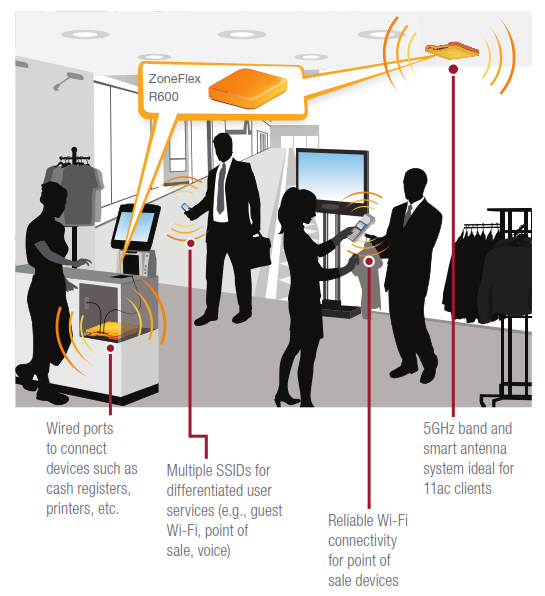 RUCKUS Unleashed:
Want blazing-fast Wi-Fi performance? Simple installation and management? Business-class security and resiliency? Enterprise-class features? And all at an affordable cost? Welcome to RUCKUS Unleashed. These access points (APs) use our patented technologies to deliver Ruckus' industry-leading Wi-Fi performance, but in a package designed and priced for small and medium-size businesses (SMBs) and organizations
Introducing RUCKUS Unleashed
RUCKUS Unleashed is a high-performance, simple-to-setup, easy-to-manage and affordable portfolio of access points. With built-in controller functionality, there's no need to invest in a separate appliance. You can manage your entire network (APs and switches) from your phone or web browser. Deploying at multiple sites? Manage all your Wi-Fi networks from one place through the Unleashed Multi-Site Manager. You can get your network up and running in under 5 minutes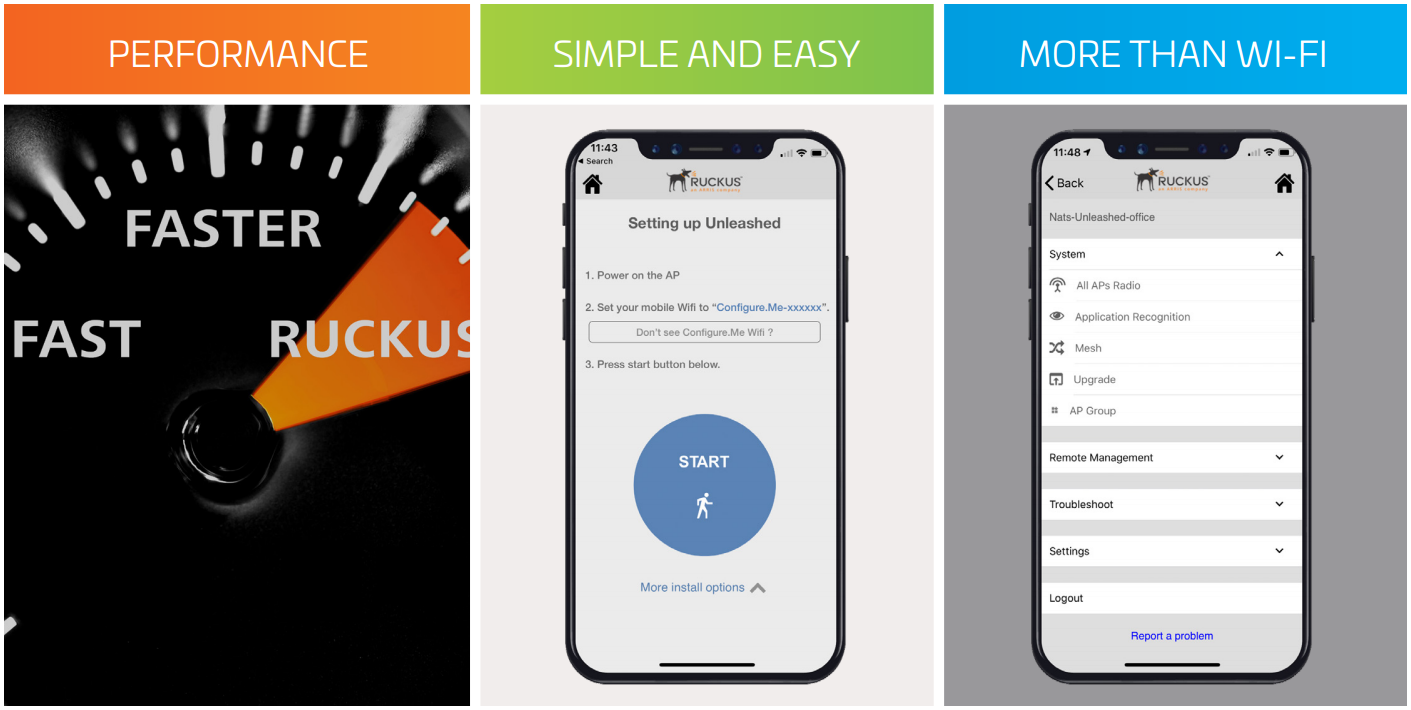 Where can RUCKUS Unleashed deliver maximum value?
RUCKUS Unleashed APs and switches are designed for small and midsize businesses with a single location or multiple locations with up to 128 APs, 2048 clients and 8 switches per deployment. They're the perfect choice for smaller organizations that need to provide high-performing, enterprise Wi-Fi to employees, customers and guests without breaking the bank. Using the Unleashed mobile app, Unleashed APs can be managed by practically anyone—no specialized IT expertise required. And Unleashed APs are designed to easily scale up as the business grows—a key requirement for the 58% of SMBs that expect to grow within the next 6–12 months.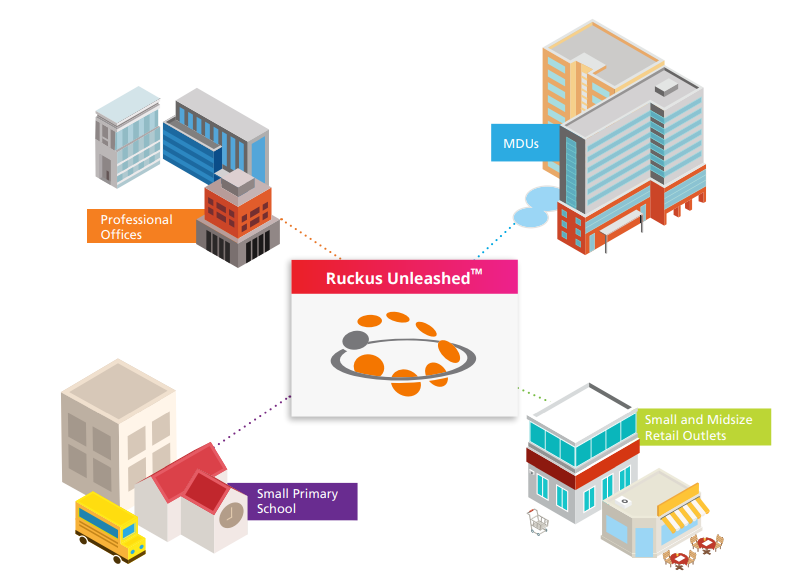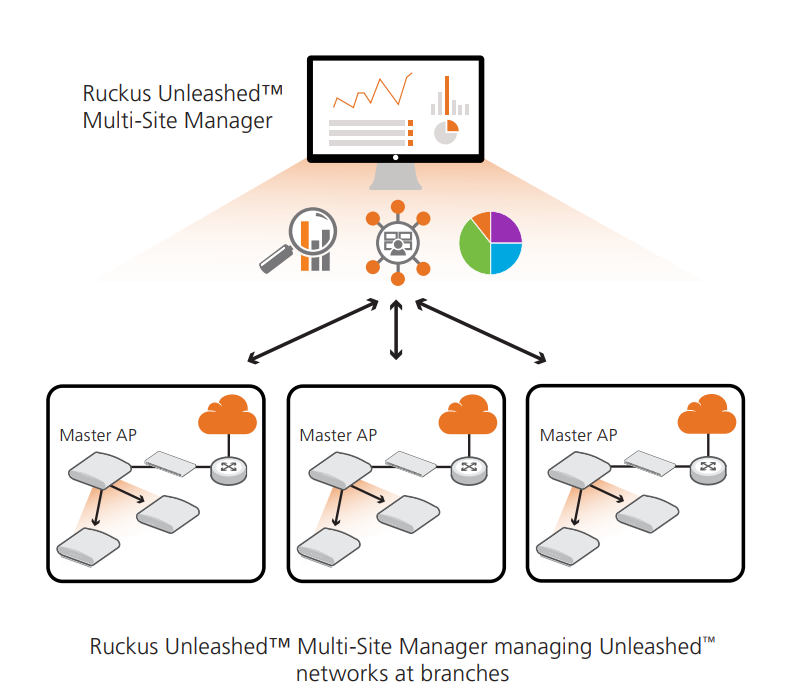 Enterprise-grade features
RUCKUS Unleashed APs and switches come loaded with enterprise-grade features to customize, optimize and secure your Wi-Fi networks and deliver great user experiences. Key features are highlighted below.
FEATURE

BENEFIT

Guest Services

Give guests secure, high-performance Wi-Fi access, while isolating their traffic from the private business network easily. Customize your guest Wi-Fi portal with your logo, brand and messages. Provide Wi-Fi access through Guest Passes, or have guests authenticate using social media accounts such as Facebook to eliminate the hassle (and security holes) of sharing
Wi-Fi passwords.

Application Visibility and Control

Monitor the network usage patterns of over 2,200 applications with Deep Packet Inspection, and find out which ones are consuming the most resources. You can define application-specific access rules (such as limiting access to YouTube or social media), or even limit Wi-Fi speeds for specific applications and/or SSIDs.

Resiliency

Continue to access printers and other network devices even if internet connectivity fails. Users stay connected to the Wi-Fi network even if one or several APs fail for any reason, as long as at least one AP in the network is online.

Security

Use DPSK to eliminate the risks of shared passwords and lock down access to the Wi-Fi network—without complex configurations. In addition, secure your network and protect your clients with WPA encryption, client isolation and 802.1x for RADIUS and Active Directory.

Zero Touch Mesh

Add new Unleashed APs to the existing network securely over the air. Dramatically speed up and simplify the installation of an Unleashed network.

Multiple Language Support

Create and manage your Wi-Fi network in your own language. RUCKUS Unleashed currently supports 13 languages.

URL Filtering

Define web access rules for your network users. Protect your network from malware and phishing sites.

Social Login

With the built-in Social Login feature, you can sign into the Unleashed mobile app using your Gmail, Facebook or Twitter account, and link your Unleashed Wi-Fi network. From that point on, you can manage your Unleashed
network from anywhere in the world using your social login.

Remote Management

Need a quick answer or help troubleshooting a network issue? Just tap the "Invite for Remote Management" option on the mobile app, and send a text message or email with a link containing all the Unleashed network information  to an expert.

AP Groups

Apply multiple configuration profiles to different groups of APs.

Zero IT

Easily onboard customers or employees onto your Wi-Fi network through a simple, self-service portal.

SSID Rate-Limiting

If you want to limit data speeds for a particular group of users (such as guest users), you can create a separate SSID with a data rate "speed limit" that you define.
Specifications:
ZoneFlex R600 Specifications
Physical Characteristics
Power

DC Input: 12 VDC 1.0A
Power over Ethernet 802.3 af

Physical Size

15.8 cm (L) x 15.8 cm (W) x 4 cm (H)
(6.2 in x 6.2 in x 1.57 in)

Weight
364 g (0.8 lb.)
Data Ports
2 auto MDX, auto-sensing 10/100/1000 Mbps, RJ-45, POE port (on one port)
Mounting Options

Electrical wallbox; Standard US and EU single gang wall jack
Optional bracket for offset & wall mount

Lock Options

Hidden latching mechanism
Kensington Lock Hole
T-bar Torx
Bracket (902-0108-0000) Torx screw & padlock (sold separately)

Environmental Conditions

Operating Temperature: 0°C - 40°C
Operating Humidity: 10% - 95% non-condensing

Power Draw

Idle: 4W
Typical: 6.2W
Peak: 11.2W

Performance and Capacity
Concurrent Stations
Up to 512 clients per AP
Simultaneous VoIP Clients
Up to 30
RF
Antenna

Adaptive antenna that provides up to 512 unique antenna patterns per radio
Full omnidirectional polarization diversity

Physical Antenna Gain
Up to 3 dBi
Beamflex* SINR TX Gain
Up to 6 dB
Beamflex* SINR RX Gain
3-5 dB (PD-MRC)
Interference Mitigation
Up to 15 dB
Minimum RX Sensitivity
Up to -101 dBm
Management
Deployment Options
RUCKUS Unleashed, controller-less
Configuration
Basic SNMP support
Wi-Fi
Standards

IEEE 802.11a/b/g/n/ac
2.4GHz and 5GHz

Supported Data Rates

802.11n/ac: 6.5Mbps – 260Mbps (20MHz)
13.5Mbps – 600Mbps (40MHz)
29.3Mbps – 1300Mbps (80MHz)
802.11a: 54, 48, 36, 24, 18, 12, 9 and 6Mbps
802.11b: 11, 5.5, 2 and 1 Mbps
802.11g: 54, 48, 36, 24, 18, 12, 9 and 6 Mbps

Radio Chains
3x3
Spatial Streams
3
RF Power Output (Aggregate)

28 dBm for 2.4GHz†
27 dBm for 5GHz†

Channelization
20MHz, 40MHz, 80MHz
Frequency Band

IEEE 802.11 b/g/n: 2.4 – 2.484 GHz
IEEE 802.11a/ac: 5.15 – 5.25 GHz; 5.25 – 5.35 GHz; 5.47 – 5.725 GHz; 5.725 – 5.85 GHz

Operating Channels

US/Canada: 1-11, Europe ( ETSI X30): 1-13, Japan X41: 1-13
5 GHz channels: Country dependent

Power Save
Supported
Wireless Security

Authentication via 802.1X with the ZoneDirector, local authentication database, support for RADIUS, ActiveDirectory, and DPSK

Certifications**

U.S., Europe, Australia, Brazil, Canada, Chile, China, Colombia, Costa Rica, Hong Kong, India, Indonesia, Israel, Japan, Korea, Malaysia, Mexico, New Zealand, Peru, Philippines, Saudi Arabia, Singapore, South Africa, Taiwan, Thailand, UAE, Vietnam
WEEE/RoHS compliance
EN-60601-1-2 (Medical)
Wi-Fi Alliance
EN50121-1 Railway EMC
EN50121-4 Railway Immunity
IEC 61373 Railway Shock & Vibration
UL 2043 plenum rated
5GHz UNII-1 (2014)
* BeamFlex gains are statistical system level effects translated to enhanced SINR based on observations over time in real-world conditions with multiple APs and many clients
† Maximum power varies by country
** See price list for latest country certification listing
Product Comparison:
Indoor Access Points
Indoor

HARDWARE SPECS

MU- MIMO

DATA SPEED

CONCURRENT USERS

ANTENNA PATTERNS (PER BAND)

ETHERNET PORTS

802.11ac, 2x2:2

No

867 Mbps (5GHz)

300 Mbps (2.4GHz)

100

64

1x1GbE

802.11ac Wave 2, 2x2:2

No

867 Mbps (5GHz)

300 Mbps (2.4GHz)

256

64

1x1GbE

802.11ac Wave 2, 2x2:2

Yes

867 Mbps (5GHz)

300 Mbps (2.4GHz)

100

512

2x1GbE

802.11ac Wave 2, 3x3:3

Yes

1300 Mbps (5GHz)

450 Mbps (2.4GHz)

512

512

2x1GbE

802.11ac Wave 2, 4x4:4

Yes

1733 Mbps (5GHz)

600 Mbps (2.4GHz)

512

4,000+

2x1GbE

802.11ac Wave 2, 4x4:4

Yes

1733 Mbps (5GHz)

600 Mbps (2.4GHz)

512

4,000+

1x1GbE 1x2.5GbE

802.11ax (Wi-Fi 6), 4x4:4

Yes

2400 Mbps (5GHz)

1148 Mbps (2.4GHz)

1024

4,000+

1x1GbE 1x2.5GbE
Outdoor Access Points
Outdoor

HARDWARE SPECS

MU- MIMO

DATA SPEED

CONCURRENT USERS

ANTENNA PATTERNS (PER BAND)

ETHERNET PORTS

802.11ac Wave 2, 2x2:2

Yes

867 Mbps (5GHz)

300 Mbps (2.4GHz)

512

64

1x1GbE

802.11ac Wave 2, 2x2:2

Yes

867 Mbps (5GHz)

300 Mbps (2.4GHz)

512

64

1x1GbE

802.11ac Wave 2, 4x4:4

Yes

1733 Mbps (5GHz)

600 Mbps (2.4GHz)

512

4,000+

2x1GbE

802.11ac Wave 2, 4x4:4

Yes

1733 Mbps (5GHz)

600 Mbps (2.4GHz)

512

4,000+

2x1GbE
Specialty Access Points
Specialty

HARDWARE SPECS

MU- MIMO

DATA SPEED

CONCURRENT USERS

ANTENNA PATTERNS (PER BAND)

ETHERNET PORTS

802.11ac Wave 2, 2x2:2

Yes

867 Mbps (5GHz)

300 Mbps (2.4GHz)

100

4

2x10/100MbE

1x DOCSIS 3.0

modem port

802.11ac Wave 2, 2x2:2

Yes

867 Mbps (5GHz)

150 Mbps (2.4GHz)

100

4

2x10/100MbE

1x1GbE

802.11ac Wave 2, 2x2:2

Yes

867 Mbps (5GHz)

300 Mbps (2.4GHz)

100

4

5x1GbE

802.11 ac Wave 2, 2x2:2

Yes

867 Mbps (5GHz)

300 Mbps (2.4GHz)

512

64

2x 1GbE 1x RJ-45
Views: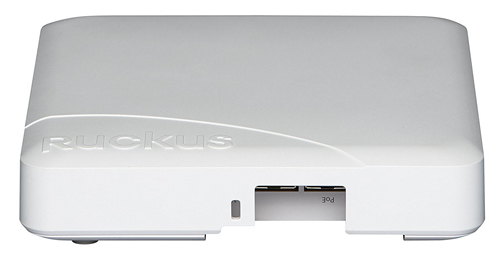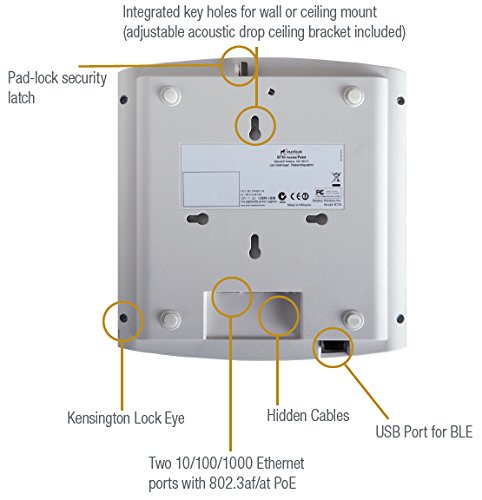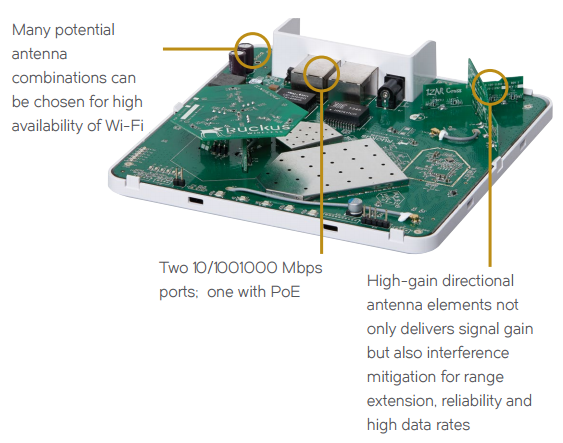 Pricing Notes:
Pricing and product availability subject to change without notice.
CommScope RUCKUS Products
RUCKUS ZoneFlex R600 Unleashed Series Accessories
RUCKUS Spares of Power over Ethernet (PoE) Adapter (10/100/1000 Mbps) with US power adapter, quantity of 1 unit (applicable for 7731, P300, R710, R610, R700, R600, R500, R510, R300, R310, 7982, 7372, 7352, 7321, H510, H500, H320, 7055, T300, T301, T610, T610s)
#902-0162-US00
Our Price: $90.00
RUCKUS Spares of Power over Ethernet (PoE) Adapter (10/100/1000 Mbps) with Israel power adapter, quantity of 1 unit
#902-0162-IL00
Our Price: $90.00
RUCKUS Spares of Power over Ethernet (PoE) Adapter (10/100/1000 Mbps) with Switzerland power adapter, quantity of 1 unit
#902-0162-SW00
Our Price: $90.00