RUCKUS ICX 7150-C08P Compact Switch

12-Port Entry-Level Enterprise-Class Stackable Access Switch

Sorry, this product is no longer available, and replaced by the new ICX7150-C12P or please contact us for a replacement.
More pricing below, click here!
Overview:
Entry-Level Access Switch Family Delivers Unprecedented Performance and Features in ITs Class
The RUCKUS ICX 7150 family of stackable switches delivers the performance, flexibility, and scalability required for enterprise access deployment, raising the bar with non-blocking performance and up to 8x10 GbE ports for uplinks or stacking. It offers seamless interoperability with RUCKUS wireless products to deliver unified wired and wireless network access. In addition, RUCKUS Multigigabit Ethernet technology offers bandwidth speeds needed to optimize performance of the latest generation high performance wireless access points and edge devices, over standard Ethernet cables.
The RUCKUS ICX 7150 family of switches are available in three formats: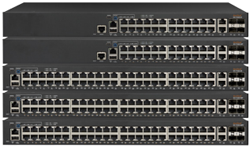 RUCKUS ICX 7150 Switches
The standard RUCKUS ICX 7150 switches are available in 24-, and 48-port 10/100/1000 Mbps models with four 1/10 GbE dual-purpose uplink/stacking ports. These switches are available with or without PoE+ power. Silent operation is available for out-of-closet environments.

RUCKUS ICX 7150 Z-Series Switches
The RUCKUS ICX 7150-48ZP 48-port switch adds higher performance, greater resiliency and increased PoE power. The switch offers Multigigabit technology (IEEE 802.3bz) to match the highest performing 802.11ac Wave 2 wireless access points available, with dual redundant, hot-swappable power supplies and fans, and up to 8x10 GbE uplink/stacking ports.
The switch offers 16 Multigigabit (100Mbps/1Gbps/2.5Gbps) ports, each with Power-over-HDBaseT (PoH) up to 90 watts, plus 32 10/100/1000 Mbps ports with PoE+. With a maximum PoE budget of 1480 watts, this switch delivers the power, and performance, to drive PoE+ power to all 48 ports.

RUCKUS ICX 7150 Compact Switches
The RUCKUS ICX 7150-C12P compact 12-port stackable switch features a fanless design to operate silently in out-of-closet environments such as offices, classrooms, and retail spaces. It offers PoE+ on all 12 ports to drive devices such as wireless APs, VoIP phones, lighting fixtures or surveillance cameras. With 2x1/10 GbE uplink/ stacking ports, the ICX 7150-C12 delivers high performance in a small package.

Stacking Across the ICX 7150 Family
RUCKUS stacking technology2 makes it possible to stack up to twelve RUCKUS ICX 7150 switches into a single logical switch. This allows the RUCKUS ICX 7150 to deliver a class-leading 480 Gbps of aggregated stacking bandwidth and offer simple and robust expandability for future growth. Stacking is supported across the ICX 7150 family and all ICX 7150 models including the ICX 7150 compact switch and the ICX 7150-48ZP can be mixed within the same stack. This stacked switch has only a single IP address that simplifies management and offers transparent forwarding across up to 600×1 GbE ports or up to 192×2.5 GbE ports, and up to 96×10 GbE ports. When new switches join the stack, they automatically inherit the stack's existing configuration file, enabling a plug-and-play network expansion.
Because the ICX 7150-48ZP switch has twice as many uplink ports, when it is added to a stack of other ICX 7150 switch models, the effective bandwidth of all the switches is doubled. By designing the stack this way, all four of the 10GbE ports on the ICX 7150 switches can be used for stacking (rather than having to split the four ports between stacking and uplinks), and leveraging four of the 10GbE ports on the ICX 7150-48ZP for stacking and the other four 10GbE ports can be used for uplinks.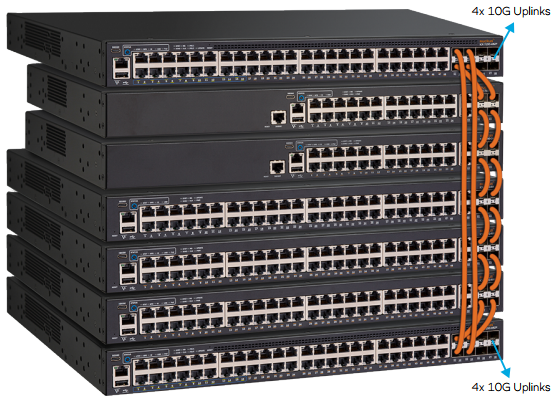 Enterprise-Class Availability
The RUCKUS ICX 7150 Switches help deliver continuous availability to optimize the user experience. RUCKUS stacking technology provides high availability by performing real-time state synchronization across the stack and transferring switch management control from the master stack controller to the standby controller if the master stack controller experiences a failure. When hot-inserting or hot-removing a stack member to increase capacity or perform service upgrade, traffic flows will not experience interruption.
In addition to stack-level high availability, RUCKUS ICX 7150 Switches also support stack level ISSU (In Service Software Upgrade), a unique capability that allows the user to perform software upgrades to a RUCKUS ICX 7150 stack without service interruption. Taking highavailability and reliability even further, the RUCKUS ICX 7150 Z-Series switch offers redundant hot swappable load sharing power supplies and up to 2 hot swappable fans.
Silent Operation
The RUCKUS ICX 7150-C12P compact switch, along with the RUCKUS ICX 7150-24 and the ICX 7150-48 switches, feature a fanless design that enables it to operate silently. The RUCKUS ICX 7150-24P and the ICX 7150-48P offer a "silent mode" configuration option, enabling these switches to operate with the fan disabled while providing a PoE budget of 150 watts. This Ruckusexclusive feature enables users in hospitality, education, healthcare, and retail industries to deploy these switches outside of the wiring closet without disrupting the work environment.
Multigigabit Ethernet Support
The RUCKUS ICX 7150-48ZP Switch raises the bar for entry-level switches even further with 16x IEEE 802.3bz compliant 2.5 GbE ports, up to 8×10 GbE uplink ports, dual redundant load sharing power supplies and class-leading stacking density with up to 12 switches per stack. It stacks with all other members of the ICX 7150 family allowing organizations to buy what they need now and easily scale as the need for Multigigabit support emerges. It is designed to work seamlessly with RUCKUS wireless access points to deliver unified wired and wireless network access.
Power Next-Generation Edge Devices
All ICX 7150 family members offer PoE options. The compact 12 port switch delivers PoE+ on all ports with a 124W PoE budget. The 24- and 48-port ICX 7150 switches offer up to 740W of PoE+ power and the ICX 7150 Z-Series offers an industry leading 1480W PoE budget when equipped with 2 power supplies. In addition to supporting PoE and PoE+, the RUCKUS ICX 7150 Z-Series also offers Power over HDBaseT (PoH). This new, high power HDBT standard delivers up to 90 watts per port through a standard Ethernet cable, simplifying the wiring of next-generation Ethernet-connected devices such as high-performance wireless APs, large HD displays, video surveillance equipment, and VDI thin terminals, enabling data and power to be carried by a single Ethernet wire. The PoE, PoE+ and PoH capabilities reduce the number of required power receptacles and power adapters while increasing reliability and wiring flexibility.
With a 1,480-watt power budget per switch (with two power supplies), the RUCKUS ICX 7150 48ZP model can supply Class 4 PoE+ power (30 watts) to every port and PoH power (90 watts) on 16 dedicated Multigigabit ports.
Features:
Enterprise-Class Features Across All RUCKUS ICX Switches
The RUCKUS ICX 7150 is one of the ICX switch families delivering the enterprise class features for flexibility, scalability and simplified management.
RUCKUS Campus Fabric technology delivers unmatched flexibility, scalability and simplified management for campus network deployments. Incorporating all of the ICX 7000 switch families with up to 1800 ports in a single logical domain, Campus Fabric allows customers the benefits of a traditional chassis, with the flexibility of stackable switches at a dramatically reduced Total Cost of Ownership (TCO).
Advanced stacking goes beyond traditional stacking with capabilities that take flexibility, ease of management and cost effectiveness to then next level, including:

Stacking on standard Ethernet ports
Long-distance stacking
No hardware module require for stacking
In Service Software Upgrade (ISSU) to minimize downtime
Superior scalability with the industry-leading number of switches per stack
Stacking at the access, aggregation and core layers

Enterprise-Class Availability to improve resiliency and minimize downtime, including:

Hitless stack failover
Hot-insertion/removal of stack members
Redundant power supplies
In Service Software Upgrades for switch stacks

On-boarding and security policies across ICX switches and wireless networks.
OpenFlow 1.3 protocol support in hybrid mode allows user to deploy traditional Layer 2/3 forwarding with OpenFlow on the same port for Software Defined Network (SDN) enabled programmatic control of the network
Open Standards based management, monitoring and authentication

sFlow-based network monitoring to help analyze traffic statistics and trends on every link and overcome unexpected network congestion
Open-standards management includes Command Line Interface (CLI), Secure Shell (SSHv2), Secure Copy (SCP), and SNMPv3
Support for Access Controller Access Control System (TACACS/TACACS+) and RADIUS authentication helps ensure secure operator access
LLDP and LLDP-MED protocol support for configuring, discovering, and managing network infrastructure such as QoS, security policies, VLAN assignments, PoE power levels, and service priorities
Benefits:
Stackability Simplifies Management
Class-leading stacking scalability with up to 12 switches per stack1
Long-distance stacking up to 10 km using standard optics or cables
10 GBE Ports Optimize Network Performance
Up to 8×10 GbE SFP+ ports for stacking or uplinks
Dual Power Supplies for High Availability
Dual load-sharing, hot-swappable power supplies available on the Z-Series switch
Multigigabit Support Enables Next Generation Wireless Deployment
Up to 16x 2.5 GbE ports optimized for 802.11ac Wave 2 wireless deployment
Class Leading PoE Budget to Power Advanced Edge Devices
PoE+/PoH budget (up to 1,480 watts)
Supports advanced wireless APs and video surveillance equipment
Silent Operation for Deployment in the Work Environment
Fanless design or silent mode enables nondisruptive deployment
Advanced L3 Maximizes Flexibility
RIP, OSPF, VRRP, PIM, PBR L3 features1
Campus Fabric Reduces Cost of Operations, Increases Flexibility
RUCKUS Campus Fabric1 delivers the benefits of a chassis with the flexibility of stackables
Scales to over 1800 ports
1 Feature to be supported in a future software release
Deployment:
The RUCKUS Campus Fabric architecture versus a traditional multi-tier campus network.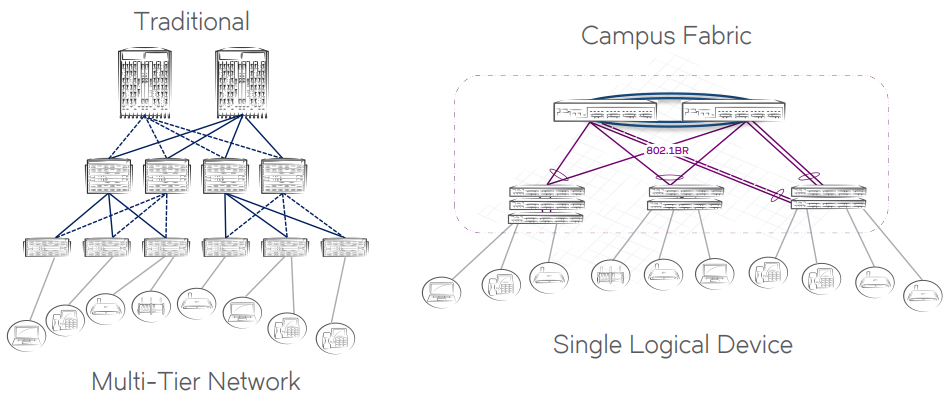 Specifications:
Access

Access / Aggregation

Aggregation / Core

Learn More

Learn More

Learn More

Learn More

Learn More

Learn More

Learn More

Learn More

Feature

ICX

7150-Compact

ICX 7150

ICX 7150

Z-Series

ICX 7250

ICX 7450

ICX 7650

ICX 7750

ICX 7850

Switching Capacity (max)

120Gbps

180Gbps

304Gbps

256Gbps

336Gbps

1.128Tbps

2.56Tbps

6.4Tbps

1GbE RJ-45 ports

8 or 10 or 12 +2

24 +2 or 48 +2

48

24 or 48

24 or 48

48

48

1GbE SFP ports

2

24 +4

8

8

48

48

48

48

1/2.5GbE RJ-45 ports (max)

8

16

1/2.5/5/10GbE RJ-45 ports (max)

2

24

10GbE SFP+ ports (max)

2

4

8

8

12

24 +4

961

1281

10GbE RJ-45 ports (max)

2

12

24

48

25GbE SFP28 ports

48

40GbE QSFP+ ports (max)

3

2

32

100GbE QSFP28 ports (max)

2

32

PoE Power Budget (max)

240W

740W

1480W

1480W

1480W

1500W

Switches per stack (max)

12

12

12

12

12

12

12

12

Aggregate stack bandwidth

240Gbps

480Gbps

480Gbps

480Gbps

960Gbps

2.4Tbps

5.76Tbps

9.6Tbps
1 Feature to be supported in a future release.
2 10 Gbps SFP+ ports are required for stacking.
Specification Feature Set:
Layer 2 feature set
802.1s Multiple Spanning Tree
802.1x Authentication
Auto MDI/MDIX
BPDU Guard, Root Guard
Dual-Mode VLANs
MAC-based VLANs, Dynamic MAC-based VLAN activation
Dynamic VLAN Assignment
Dynamic Voice VLAN Assignment
Fast Port Span
GVRP: GARP VLAN Registration Protocol
IGMP Snooping (v1/v2/v3)
IGMP Proxy for Static Groups
IGMP v2/v3 Fast Leave
Inter-Packet Gap (IPG) adjustment
Link Fault Signaling (LFS)
MAC Address Filtering
MAC Learning Disable
MLD Snooping (v1/v2)
Multi-device Authentication
Per-VLAN Spanning Tree (PVST/PVST+/PRST)
Mirroring: Port-based, ACL-based, MAC Filter-based, and VLAN-based
PIM-SM v2 Snooping
Port Loop Detection
Private VLAN
Remote Fault Notification (RFN)
Single-instance Spanning Tree
Trunk Groups (static, LACP)
Uni-Directional Link Detection (UDLD)
Metro-Ring Protocol (MRP) (v1, v2)
Virtual Switch Redundancy Protocol (VSRP)1
Q-in-Q
Topology Groups
Base Layer 3 IP routing1 feature set
IPv4 and IPv6 static routes
RIP v1/v2, RIPng
ECMP
Port-based Access Control Lists
Layer 3/Layer 4 ACLs
Host routes
Virtual Interfaces
Routed Interfaces
Route-only Support
Routing Between Directly Connected Subnets
Premium Layer 3 IP routing1 feature set with software license
IPv4 and IPv6 dynamic routes
OSPF v2, v3
PIM-SM, PIM-SSM, PIM-DM, PIM passive (IPv4, IPv6)
PBR
Quality of Service (QoS)
ACL Mapping and Marking of ToS/DSCP (CoS)
ACL Mapping and Marking of 802.1p
ACL Mapping to Priority Queue
Classifying and Limiting Flows Based on TCP Flags
DiffServ Support
Honoring DSCP and 802.1p (CoS)
MAC Address Mapping to Priority Queue
Priority Queue Management using Weighted Round Robin (WRR), Strict Priority (SP), and a combination of WRR and SP
Traffic management
ACL-based inbound rate limiting and traffic policies
Broadcast, multicast, and unknown unicast rate limiting
Inbound rate limiting per port
Outbound rate limiting per port and per queue
Security
802.1X authentication
MAC authentication
Flexible authentication
Web authentication
DHCP snooping
Dynamic ARP inspection
Neighbor Discovery (ND) Inspection
Bi-level Access Mode (Standard and EXEC Level)
EAP pass-through support
IEEE 802.1X username export in sFlow
Protection against Denial of Service (DoS) attacks
Authentication, Authorization, and Accounting (AAA)
MAC Address Locking MAC Port Security
Advanced Encryption Standard (AES) with SSHv2
RADIUS/TACACS/TACACS+
Secure Copy (SCP)
Secure Shell (SSHv2)
Local Username/Password
Change of Authorization (CoA) RFC 5176
Trusted Platform Module
SDN features1
OpenFlow v1.0 and v1.3
OpenFlow with hybrid port mode
Operates with an OpenDayLight Controller
High availability
Layer 3 VRRP/VRRP-E protocol redundancy1
Real-time state synchronization across the stack1
Hitless failover and switchover from master to standby stack controller1
Hot insertion and removal of stacked units1
Layer 2 VSRP switch redundancy1
In Service Software Update (ISSU)1
Network and Device Management
DHCP Auto Configuration
Configuration Logging
Digital Optical Monitoring
Display Log Messages on Multiple Terminals
Embedded Web Management (HTTP/HTTPS)
Embedded DHCP Server
Industry-standard Command Line Interface (CLI)
Brocade Network Advisor (sold separately)
CLI activation of optional software features
Integration with HP OpenView
USB file management and storage
Macro for batch execution
Out-of-band Ethernet Management
TFTP
TELNET Client and Server
SSH / SSH V2
Bootp
SNMPv1/v2c
DHCP Server and DHCP Relay
SNMPv3 Intro to Framework
Architecture for Describing SNMP Framework
SNMP Message Processing and Dispatching
SNMPv3 Applications
SNMPv3 User-based Security Model
SNMP View-based Access Control Model SNMP
sFlow
Network Time Protocol (NTP)
Multiple Syslog Servers
SCP
Virtual Cable Tester (VCT)1
For management MIB, please visit www.brocade.com
RUCKUS Campus Fabric technology1
The RUCKUS ICX 7150 can operate in fabric Port Extender (PE) mode
Up to 36 PEs per fabric (up to 1800 ports)
PE cascade depth up to 6 units
IEEE standards compliance
802.1AB LLDP/ LLDP-MED
802.1D MAC Bridging
802.1p Mapping to Priority Queue
802.1s Multiple Spanning Tree (MST)
802.1w Rapid Reconfiguration of Spanning Tree (RSTP)
802.1x Port-based Network Access Control (PNAC)
802.3 Carrier Sense Multiple Access/Collision Detection (CSMA/CD)
802.3ab 1000BASE-T
802.3 10Base-T
802.3ad Link Aggregation (Dynamic and Static)
802.1 AX-2008 Link Aggregation
802.3ae 10 Gigabit Ethernet
802.3af Power over Ethernet
802.3at Power over Ethernet Plus
802.3bz Multigigabit Ethernet
802.3u 100Base-TX
802.3x Flow Control
802.3z 1000Base-SX/LX
802.3 MAU MIB (RFC 2239)
802.1Q VLAN Tagging
802.1BR Bridge Port Extension1
RFC standards compliance
For a complete list of RFCs supported by the ICX 7000 product family, please visit www.brocade.com/fastironrfc.
1 Feature to be supported in a future release.
Compare:
RUCKUS ICX Switch Family
Access
Access/ Aggregation
AGG/Core
ICX 7150 Compact
ICX 7150
ICX 7150 Z-Series
ICX 7250
ICX 7450
ICX 7750
Switch Capacity
Switching capacity (max)
68 Gbps
180 Gbps
304 Gbps
256 Gbps
336 Gbps
576 Gbps
1 GbE RJ-45 ports
12 +2
24 or 48 +2
48
24 or 48
24, 32 or 48
48
1 GbE SFP ports
2
4
8
8
48
48
1/2.5 GbE RJ-45 ports
16
8
10 GbE SFP+ ports (max)
2
4
8
8
12
962
10 GbE RJ-45 ports (max)
12
48
40 GbE QSFP+ ports (max)
3
32
PoE Power Budget (max)
124 W
740 W
1480 W
1480 W1
1496 W
Switches per stack (max)
12
12
12
12
12
12
Aggregated stack bandwidth
240 Gbps
480 Gbps
480 Gbps
480 Gbps
960 Gbps
5.76 Tbps
Key Features
PoE / PoE+
Stacking
3
3
sFlow
L3: Static Routing / RIP/ OSPF
3
3
OpenFlow
3
3
EEE (Energy Efficient Ethernet)
Campus Fabric
3
3
3
Redundant power option
Hot-Swap PSUs & Fans
Multigig (IEEE 802.3bz)
PoH (90W per port)
L3: BGP
L3: VRF
MACsec
IPsec VPN
Reversible airflow option
MCT
1 With external power supply unit.
2 With QSFP+ to 4 SFP+ splitter cables.
3 To be supported in a future software release.
Pricing Notes:
Pricing and product availability subject to change without notice.
CommScope RUCKUS Products
RUCKUS ICX 7150 Upgrade Licenses
RUCKUS CoE Certificate License to upgrade any ICX 7150 compact switch from 2x 1G SFP to 2x 10G SFP+uplink ports
License to upgrade the RUCKUS ICX 7150 compact switch from 2x1 GbE SFP to 2x10 GbE SFP+ stacking/uplink-ports. Also includes Layer 3 features (OSPF, VRRP, PIM, PBR).
#BR-ICX-7150C-21U210R-P-01
Our Price: $750.00
RUCKUS Switch Accessories
Console cable RJ45-RJ45 with RJ-45-DB9 Adapter (for RJ-45 console port)
#CC-RJ45-DB9
Our Price: $75.00
USB 2.0 Cable, Type-C to Type-A, 1 meter (for USB Type-C console port)
#CC-USBC-USBA
Our Price: $75.00
Rack mount kit for compact switches
#ICX7000-C12-RMK
Our Price: $60.00
Wall Mount Bracket Kit for compact switches
#ICX7000-C12-WMK
Our Price: $60.00