RUCKUS SmartZone 100

A Scalable, Smart WLAN Controller for Mid-Size Enterprise
Sorry, this product is no longer available, and has been replaced by SmartZone 144.
RUCKUS SmartZone 100 Overview:
The Most Affordable, Scalable, Resilient, and Highest Performing Wireless LAN controller in its class
Deploy the SmartZone 100 (SZ100) to manage wireless functions in your mid-size business. Now you can enhance the productivity of your growing mobile workforce with a scalable, low-cost controller. With the SZ100, you can deliver an optimal wireless experience that meets your growing business needs at an affordable price point.
Simplify the deployment and operation of your wireless network.
Deploy a network with high availability
Deliver an optimal wireless experience to mobile users
Scale your network with Ruckus' granular and flexible cloud-based licensing
The RUCKUS Networks SmartZone 100 (SZ 100) uniquely combines power, simplicity and scalability into an affordable system. Supporting up to 25,000 clients and 2,000 WLANs per device, the SZ 100 manages up to 1,024 ZoneFlex Smart Wi-Fi access points from a single location clustering up to 3,000 APs and 60,000 clients.
Unlike conventional wireless LAN systems that are costly, complex and cumbersome to deploy, the SZ 100 is designed for simplicity and ease of use. It's ideal for any medium to large-scale enterprise requiring a high-performance, reliable, and scalable wireless LAN that can be easily deployed and managed.
The SZ 100 integrates an operating system platform that delivers advanced features such as smart wireless meshing, high availability, hot spot authentication, guest networking and dynamic Wi-Fi security. Licensing can be ported to similar platforms, is granularity scalable per AP, and is cloud based requiring no license installation.
The SZ 100 easily integrates with network, security and authentication infrastructure already in place and is easily configured through a pointand- click web wizard. RUCKUS ZoneFlex APs automatically discover and are configured by the SmartZone 100.
Redundant and secure, the SZ 100 provides WLAN-wide network, security, RF and location management within a single, easy-to-use and affordable WLAN system.
Simple to Deploy
The RUCKUS SmartZone 100 integrates easily with existing switches, firewalls, authentication servers and other network infrastructure. All RUCKUS ZoneFlex APs (wired or meshed) then automatically discover the RUCKUS SmartZone 100, self configure and become instantly manageable.
Simple to Manage
Once up and running the SmartZone 100 automatically manages the ZoneFlex network of APs. With a single view into the cluster, when used as such, the SZ 100 has a per user customized dashboard, integrated Google maps, and simplified menus with a single zone and domain to reduce workflow complexity. Additionally, the SZ 100 has a 30 day reporting archive with data persistence even across reboot, and reports can be exporting to CSV, PNG, JPEG, PDF or SVG formats.
Mitigate Interference, Maximize Performance and Extend Reach with BeamFlex+
RUCKUS BeamFlex+, a patented adaptive antenna technology, ensures predictable performance for multimedia traffic applications and handheld devices which are constantly in motion.
The SmartZone 100 automatically controls the channel assignments of all ZoneFlex Smart Wi-Fi APs. And with BeamFlex, the ZoneFlex system continuously picks the best path for every packet, to both clients outside the network and mesh APs inside the network, automatically mitigating interference, to guarantee the highest quality of service.
Smart Mesh Networking Increases Flexibility, Reduces Costs
RUCKUS Smart Mesh Networking enables self-organizing and self-healing WLAN deployment. It eliminates the need to run Ethernet cables to every AP, allowing administrators to simply plug in ZoneFlex APs to any power source and walk away. All configuration and management is delivered through the SmartZone™ 100 Smart WLAN controller. APs can also be daisy- chained to mesh APs to extend the mesh and take advantage of spatial reuse.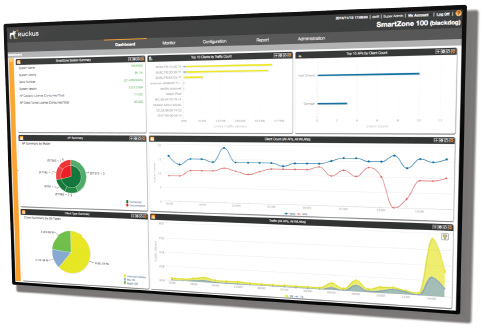 The SmartZone 100 per user customizable dashboard