RUCKUS SmartZone 100

A Scalable, Smart WLAN Controller for Mid-Size Enterprise
Sorry, this product is no longer available, and has been replaced by SmartZone 144.
RUCKUS SmartZone 100 Overview:
The Most Affordable, Scalable, Resilient, and Highest Performing Wireless LAN controller in its class
Deploy the SmartZone 100 (SZ100) to manage wireless functions in your mid-size business. Now you can enhance the productivity of your growing mobile workforce with a scalable, low-cost controller. With the SZ100, you can deliver an optimal wireless experience that meets your growing business needs at an affordable price point.
Simplify the deployment and operation of your wireless network.
Deploy a network with high availability
Deliver an optimal wireless experience to mobile users
Scale your network with Ruckus' granular and flexible cloud-based licensing
The RUCKUS Networks SmartZone 100 (SZ 100) uniquely combines power, simplicity and scalability into an affordable system. Supporting up to 25,000 clients and 2,000 WLANs per device, the SZ 100 manages up to 1,024 ZoneFlex Smart Wi-Fi access points from a single location clustering up to 3,000 APs and 60,000 clients.
Unlike conventional wireless LAN systems that are costly, complex and cumbersome to deploy, the SZ 100 is designed for simplicity and ease of use. It's ideal for any medium to large-scale enterprise requiring a high-performance, reliable, and scalable wireless LAN that can be easily deployed and managed.
The SZ 100 integrates an operating system platform that delivers advanced features such as smart wireless meshing, high availability, hot spot authentication, guest networking and dynamic Wi-Fi security. Licensing can be ported to similar platforms, is granularity scalable per AP, and is cloud based requiring no license installation.
The SZ 100 easily integrates with network, security and authentication infrastructure already in place and is easily configured through a pointand- click web wizard. RUCKUS ZoneFlex APs automatically discover and are configured by the SmartZone 100.
Redundant and secure, the SZ 100 provides WLAN-wide network, security, RF and location management within a single, easy-to-use and affordable WLAN system.
Simple to Deploy
The RUCKUS SmartZone 100 integrates easily with existing switches, firewalls, authentication servers and other network infrastructure. All RUCKUS ZoneFlex APs (wired or meshed) then automatically discover the RUCKUS SmartZone 100, self configure and become instantly manageable.
Simple to Manage
Once up and running the SmartZone 100 automatically manages the ZoneFlex network of APs. With a single view into the cluster, when used as such, the SZ 100 has a per user customized dashboard, integrated Google maps, and simplified menus with a single zone and domain to reduce workflow complexity. Additionally, the SZ 100 has a 30 day reporting archive with data persistence even across reboot, and reports can be exporting to CSV, PNG, JPEG, PDF or SVG formats.
Mitigate Interference, Maximize Performance and Extend Reach with BeamFlex+
RUCKUS BeamFlex+, a patented adaptive antenna technology, ensures predictable performance for multimedia traffic applications and handheld devices which are constantly in motion.
The SmartZone 100 automatically controls the channel assignments of all ZoneFlex Smart Wi-Fi APs. And with BeamFlex, the ZoneFlex system continuously picks the best path for every packet, to both clients outside the network and mesh APs inside the network, automatically mitigating interference, to guarantee the highest quality of service.
Smart Mesh Networking Increases Flexibility, Reduces Costs
RUCKUS Smart Mesh Networking enables self-organizing and self-healing WLAN deployment. It eliminates the need to run Ethernet cables to every AP, allowing administrators to simply plug in ZoneFlex APs to any power source and walk away. All configuration and management is delivered through the SmartZone™ 100 Smart WLAN controller. APs can also be daisy- chained to mesh APs to extend the mesh and take advantage of spatial reuse.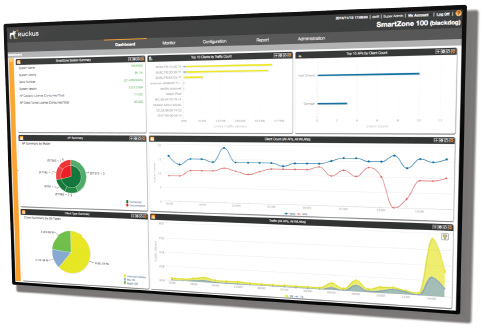 The SmartZone 100 per user customizable dashboard
Benefits:
Highly scalable with n + 1 clustering
Supporting up to 1,024 APs and 25,000 clients per device, the SmartZone 100 easily serves the largest deployments. SmartZone 100 can cluster up to 4 units (3+1) thereby supporting up to 3,000 APs and 60,000 clients.
Ultra high performance and resiliency
With clustering for resiliency and up to 10 GE throughput, control/management and data are set-up to be delivered separately through dedicated redundant ports ensuring optimal performance.
Granular and flexible cloud-based licensing
Cloud based licensing ensures simple set-up with granular, per AP licensing as opposed to tiered licensing schemes forcing users to pay for unnecessary extra costs. Licensing can be transferred to similar platforms.
Data persistence across reboot for reporting
SmartZone 100 stores up to 30 days of network and client data on an integrated drive that keeps all data even on reboot.
IT lite deployment in 5 minutes, simple to use and manage
Web-based configuration wizard configures an entire WLAN in minutes. ZoneFlex APs auto-discover the SmartZone™ 100.
Advanced WLAN features and functions
Advanced wireless networking features include rogue AP detection, interference detection and mitigation, band steering, airtime fairness, role-based user policies, per-user rate-limiting, hotspot and guest networking services.
Smart Meshing streamlines costly and complex deployment
Integrated RUCKUS Smart Mesh Networking technology automates deployment and eliminates the need to run Ethernet cable to every Smart Wi-Fi access point.
Features:
Scalable and ResilientController
Supports up to 1,024 APs and 25,000 clients per device
With 3+1 active clustering, support up to 3,000 APs and 60,000 clients with full redundancy
Easy-to-monitor network stats with up to 30 days of AP and client data storage.
Performance
10 Gbps data throughput per node for next-generation 11ac networks
Control/management and data delivered separately through dedicated redundant ports ensuring optimal performance
Simple to use
The web-based configuration wizard configures an entire WLAN in minutes.
ZoneFlex APs auto-discover the SZ100.
Flexible and scalable data forwarding options work with any network topology
Cloud-based licensing
Simple set up, cloud-based license management
Lower your TCO by buying licenses in 1-AP increments (avoids wasted seats in tiered licensing scheme)
Licenses are freely and easily migrated to other RuckOS systems if network requirements change
Shared licenses across cluster; no need to purchase licenses twice
Hardware Features
1RU rack-mountable chassis footprint
Redundant fans
Easy discovery from PC using UPnP
One year warranty coverage
Software Features
Simplified, Intuitive GUI
Installation Wizard
RUCKUS SPoT LBS Location support
WIDS/WIPS (Rogue AP Detection/Prevention)
Bonjour Gateway (at AP)
Capacity-based client admission control
Band Balancing
Internal Captive Portal (Radius, AD, LDAP, Local DB)
AP Survivability for Guest, Captive Portal
Zero-IT (using 802.1x)
WLAN Time Scheduling
User Roles
Device Policy Control
Per WLAN ACL Support (L2 white/black list, L3, L4)
Multi-hop SpeedFlex for mesh testing
Force DHCP
ZoneFlex AP discovery
Restful/JSON API
Views: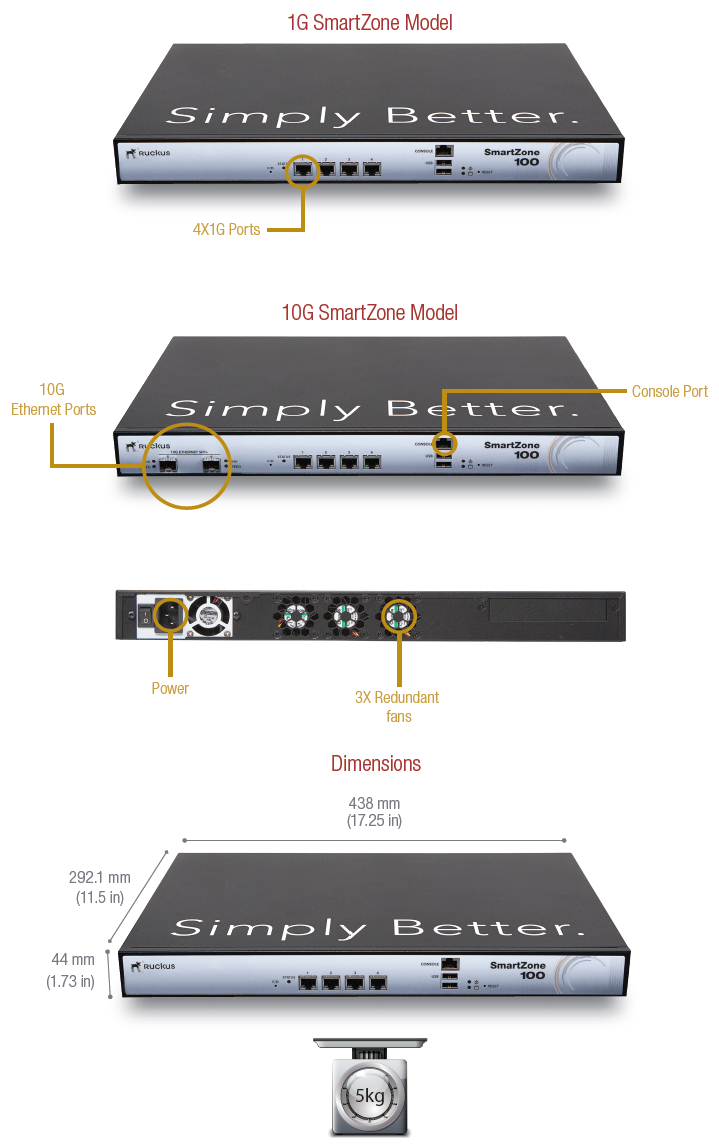 Specifications:
Network Controller

Learn More

Learn More

Learn More

Learn More

Feature

SmartZone 100

SmartZone 300

Virtual SmartZone-E

Virtual SmartZone-H

Number of APs supported

Up to 1,024 / 3,000 cluster

Up to 10,000 / 30,000 cluster

1,024 / 3K with cluster

10K / 30K with cluster

Number of switches supported

Up to 200 / 600 per cluster

Up to 2,000 / 6,000 per cluster

Up to 200 / 600 with cluster

Up to 2,000 / 6,000 with cluster

Clients

Up to 25,000 / 60,000 cluster

Up to 100,000 / 450,000 per cluster

25K / 60K per cluster

100K / 300K per cluster

Ethernet ports

1GE Model: 4 GbE ports

6 x 1GbE ports 4 x 10GbE ports

1 vNIC

1 or 3 vNIC

Authentication support

802.1X, MAC address

802.1x, Local database,

Active Directory, RADIUS, LDAP

802.1x, Local database,

Active Directory, RADIUS, LDAP

802.1x, Local database,

Active Directory, RADIUS, LDAP

Guest networking/captive portal

DHCP server

External or Assigned

External or Assigned

External or vSZ-D assigned

External or vSZ-D assigned

AP discovery and control

L2 / L3

L2 / L3

L2 / L3

L2 / L3

SSID/WLAN support

2,048 / 2,048 cluster

6,144 per SZ-300

2,048

6,144

Management Interface

Web GUI, CLI

Web GUI, CLI

Web GUI, SCI

Web GUI, SCI

Remote Management

Yes

Yes

Yes

Yes

Management protocol(s)

SNMP v3, RESTful JSON

SNMP v3, RESTful JSON

SNMP v3

SNMP v3

VLAN support

Dynamic VLANs

Dynamic VLANs

Dynamic VLANs

Dynamic VLANs

Data Plane

Tunneling or local breakout

Tunneling or local breakout

Tunneling or local breakout

Tunneling or local breakout

Power supply

DC or AC

DC or AC

N/A

N/A

Fans

Redundant

Six redundant, field swappable fans in three sets

N/A

N/A

SKU/Part number

1GE: P01-S104-XX00

10GE: P01-S124-XX00 AP Lic: L09-0001-SG00

901-S300-WW10/00

L09-VSCG-WW00

L09-VSCG-WW00
*Please see price list for latest country certifications
Compare:
RUCKUS
Unleashed
ZoneDirector
1200
ZoneDirector
3000
ZoneDirector
5000
SmartZone
100
vSmartZone
E
vSmartZone
H
Controllerless
ZoneDirector Platform
SmartZone Platform
Access points per Appliance
1-25
5–75
25–500
100–1,000
1–1,024
1–1,024
1–10,000
Access points with Clusters
HA*
HA*
HA*
HA*
1–3,000
1–3,000
1–30,000
Platform
Controllerless
Appliance
Appliance
Appliance
Appliance
Virtual Machine
Virtual Machine
Site
Single
Single
Single
Single
Multi-Site
Multi-Site
Multi Site / Tenant
* High availability (HA) with redundant controller support